Love is always worth celebrating. So why not celebrate your love with a flirty Valentine's Day drink? Making a seasonally red or pink cocktail is much easier than you think.

Believe it or not, most of these beautiful homemade cocktails only take a few minutes to assemble, and they're sure to get you into the spirit d'amour. Many of them are just five ingredients or less — including garnish — or they use common ingredients that you probably already have in your liquor cabinet. So instead of reopening that stale bottle of red sitting in your fridge, try one of these fun and festive mixed drinks.
1. Strawberry Mimosas


INGREDIENTS
- 1 c. chopped strawberries
- 1 tbsp. sugar
- 1 c. champagne, plus more for topping off the flute
- Strawberries, for garnish

DIRECTIONS
1. In a blender or food processor, blend strawberries, sugar, and champagne until fully combined, then pour into champagne flutes and top with more bubbly.
2. Garnish with a strawberry and serve.
2. Honeyed Cherry Daiquiri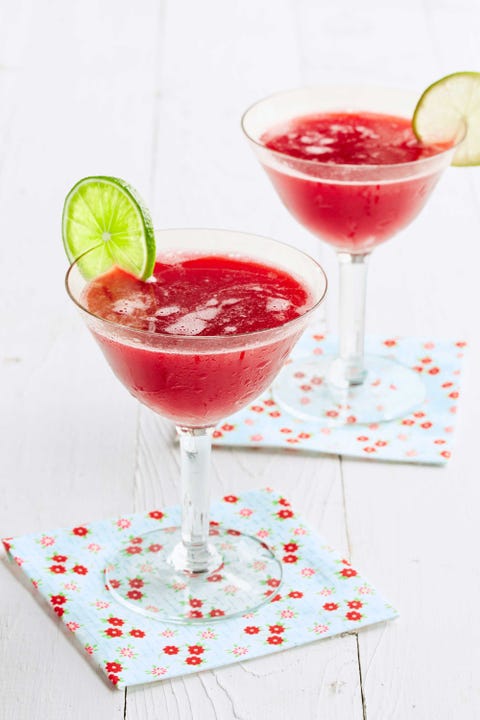 INGREDIENTS
- 8 sweet cherries, pitted
- 2 oz. light rum
- 3/4 oz. fresh lime juice, plus a slice for garnish
- 1 tbsp. honey
- Dash of bitters (such as Peychaud's)
- 1/4 oz. maraschino liqueur (optional)

DIRECTIONS
1. Muddle cherries in the bottom of the cocktail shaker until fruit is broken down and juices are released. If desired, add rum, lime juice, honey, bitters, and maraschino liqueur. Fill with ice and shake until chilled, 20 to 30 seconds. Strain into a chilled stemmed glass. Garnish with lime slice.
3. Pomegranate Cosmo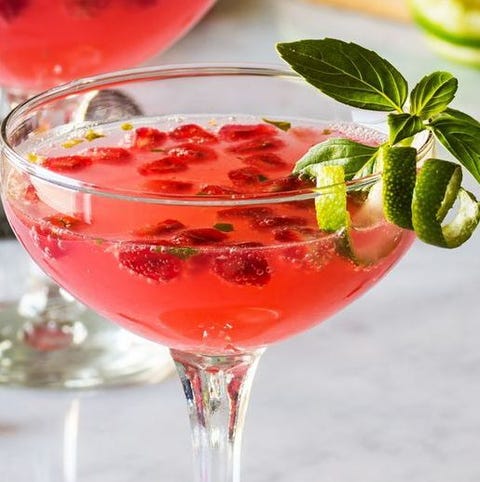 INGREDIENTS
- 1 c. vodka
- 1 c. pomegranate-cranberry juice blend
- 1/4 c. orange liqueur
- 3 tbsp. fresh lime juice
- Lime twists

DIRECTIONS
1. Put the vodka, pomegranate juice, orange liqueur, and lime juice in a large liquid measuring cup or pitcher.
2. Add ice and stir 30 seconds or until cold; strain into chilled martini glasses.
3. Garnish with lime twists.
4. Pink Señoritas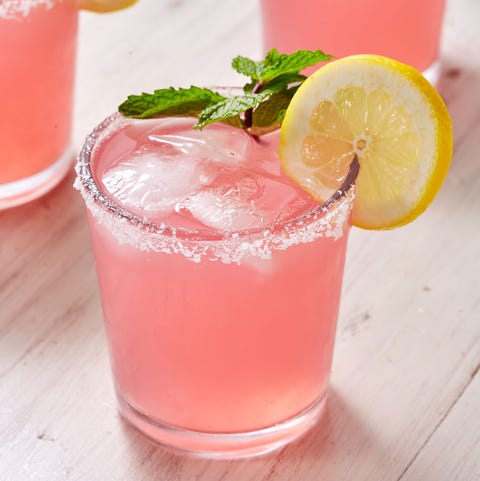 INGREDIENTS
- Lemon wedge, for rimming glasses
- Coarse salt, for rimming glasses
- 2 c. ice
- 2 1/4 c. Pink lemonade
- 1/4 c. fresh lemon juice
- 1/2 c. triple sec
- 1 c. tequila
- 4 Lemon Slices, for garnish

DIRECTIONS
1. Rub a lemon wedge around the rim of four glasses, then dip rims into salt.
2. To each glass, add ice, pink lemonade, lemon juice, triple sec, and tequila. Stir to combine. (if you prefer a lot of ice, stir together mixture first, then pour over ice.)
3. Garnish each glass with a lemon slice.
5. Cherry Sidecar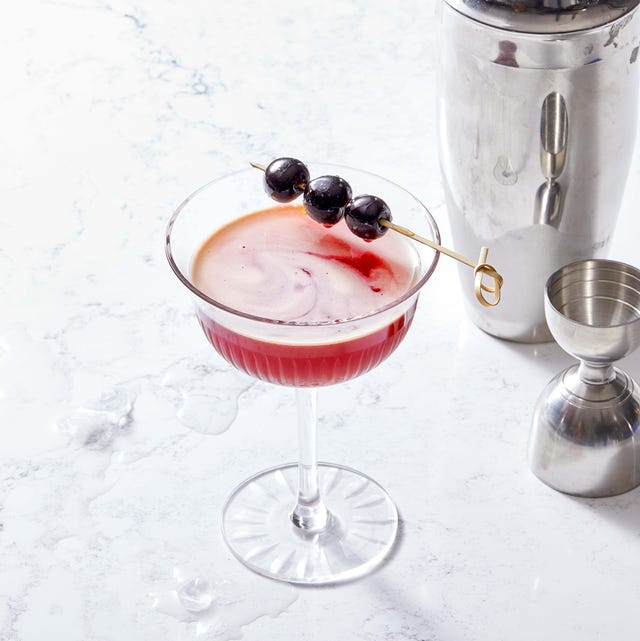 INGREDIENTS
- 1/4 c. (2 oz.) cognac
- 2 tbsp. (1 oz.) Cherry Heering
- 1 tbsp. (1/2 oz.) fresh lemon juice
- 2 dashes of bitters
- Brandied cherries, for serving

DIRECTIONS
1. In a cocktail shaker filled with ice, shake cognac, Cherry Heering, lemon juice, and bitters until cold. Strain into a coupe and serve with brandied cherries.
6. Strawberry Meyer Lemon Spritz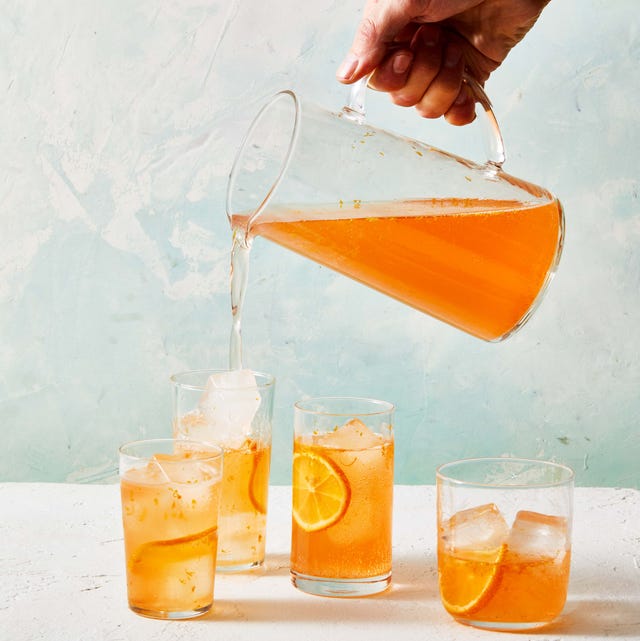 INGREDIENTS
- 8 oz. strawberries, sliced
- 1/2 c. sugar
- 2 tbsp. grated Meyer lemon zest plus 1/4 cup Meyer lemon juice
- 1 c. gin
- 1 bottle sparkling wine
- Meyer lemon slices, for serving

DIRECTIONS
1. In a medium saucepan, combine strawberries and 1 cup water and bring to a boil. Reduce heat and simmer, stirring occasionally, until strawberries lose their color and water is a deep reddish pink, about 20 minutes. Skim any foam that rises to the top. Remove from heat.
2. Using a fine-mesh sieve, strain mixture into a bowl; discard strawberries. Add sugar to mixture, return to pot and bring to a boil, then simmer until sugar has dissolved, about 6 minutes. Remove from heat, stir in Meyer lemon zest and juice and let cool completely, then strain (you should have about 1 1/4 cups syrup).
3. In a pitcher, combine syrup and gin, then top with sparkling wine. Serve over ice with Meyer lemon slices if desired.
7. Strawberry Shortcake Mimosas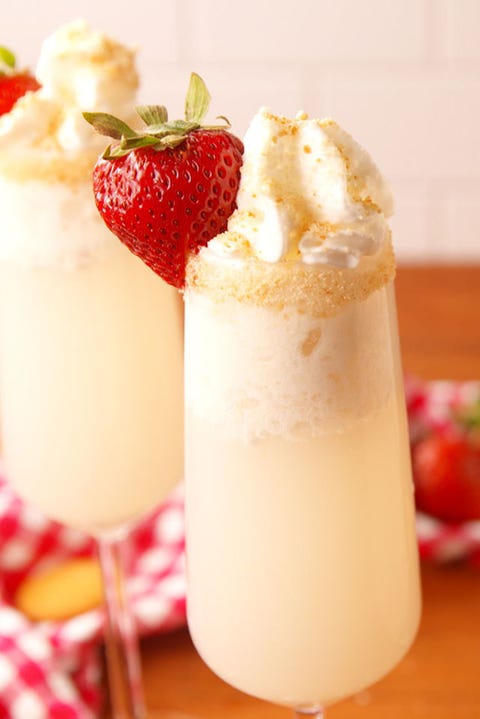 INGREDIENTS
- 10 strawberries
- 1/2 c. finely crushed Nilla wafers
- 2/3 c. strawberry ice cream
- 10 oz. vanilla vodka
- 1 bottle Champagne or Prosecco
- Whipped cream

DIRECTIONS
1. Run a sliced strawberry around the rim of Champagne flutes. Dip each rim in Nilla crumbs.
2. Into each flute, drop 1 tablespoon strawberry ice cream, then add 1-ounce vodka and top with Prosecco.
3. Top with whipped cream, a sprinkle of Nilla crumbs, and a strawberry for garnish.
8. Chocolate-Covered Strawberry Jell-O Shots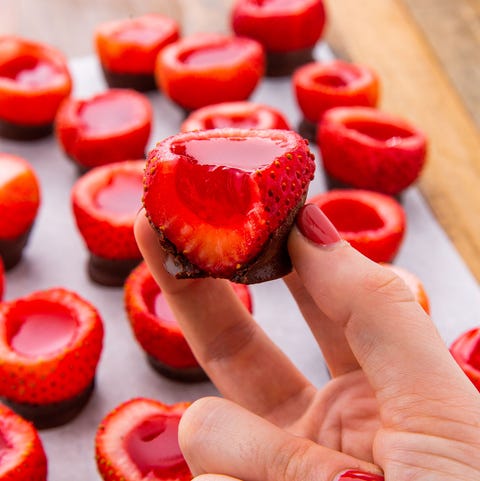 INGREDIENTS
- 3 (16-oz.) containers large strawberries
- 2 c. chocolate chips
- 2 tsp. coconut oil
- 1 (3-oz.) box strawberry Jell-O
- 1 c. boiling water
- 1 c. vodka

DIRECTIONS
1. Make shot glasses: Slice off the tops and tips of strawberries, leveling them so they can stand up on a flat surface. Using a small melon baller, gently scoop out inside of each strawberry, creating a "shot glass", being careful not to scoop all the way through. Discard insides.
2. Line a baking sheet with parchment paper. Combine chocolate chips and coconut oil in a large bowl and microwave in 30-second intervals, stirring in between, until completely melted. Dip hollowed-out strawberries in chocolate and place, cup side up, on baking sheet. Place in refrigerator to harden, 10 minutes.
3. Meanwhile, make Jell-O filling: In a large bowl, whisk together Jell-O and boiling water until completely dissolved. Add vodka and whisk to combine.
4. Carefully pour Jell-O mixture into strawberries. Refrigerate until firm, at least 3 hours.
9. Chocolate Covered Strawberry Cocktail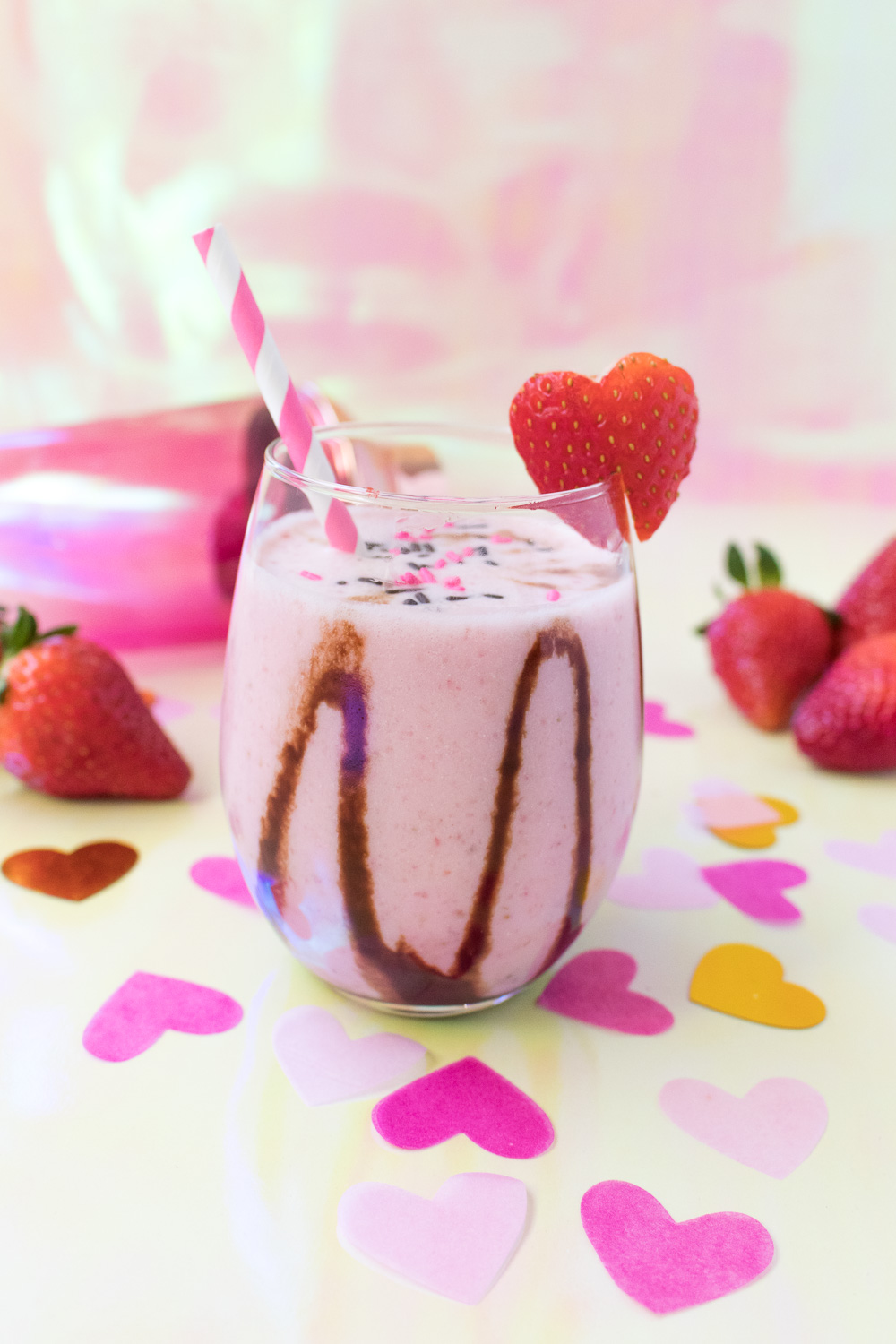 INGREDIENTS
- 5-6 fresh or frozen thawed strawberries (3/4 cup puree)
- 2 shots creme de cocoa
- 1 shot strawberry vodka
- 1/2 cup half & half (can sub milk or cream)
- Chocolate syrup, optional

DIRECTIONS
1. Puree the strawberries in a food processor
2. Drizzle the inside of a tumbler glass with chocolate syrup if desired
3. Combine the strawberry puree, creme de cacao, strawberry vodka and half & half in a cocktail shaker with ice
4. Shake and strain into the prepared glass. Add a strawberry heart to the rim if desired.
10. Baccarat Rouge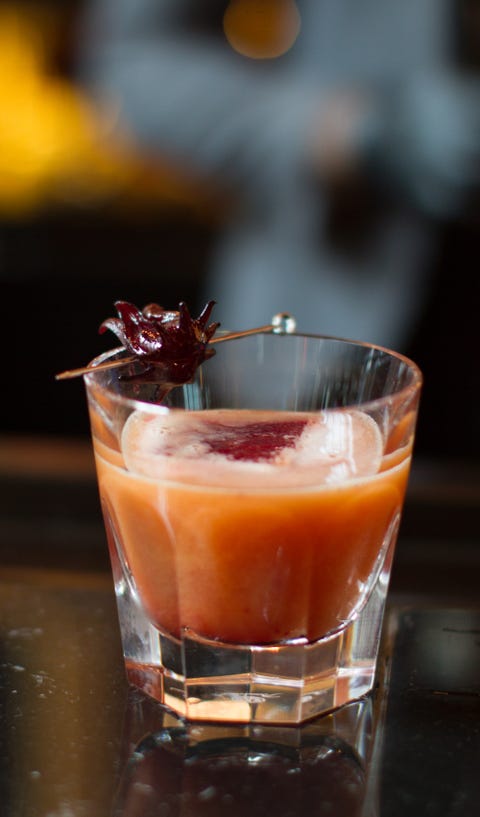 INGREDIENTS
- 2 oz Clase Azul Plata Tequila
- 1 oz passionfruit juice
- .25 oz Allspice Dram
- .25 oz lime juice
- .25 oz Cardamaro Amaro

DIRECTIONS
1. Add all ingredients to a shaker with ice and shake vigorously. Strain and serve over fresh ice in a rocks glass. Garnish with candied hibiscus flower.
11. Love Potion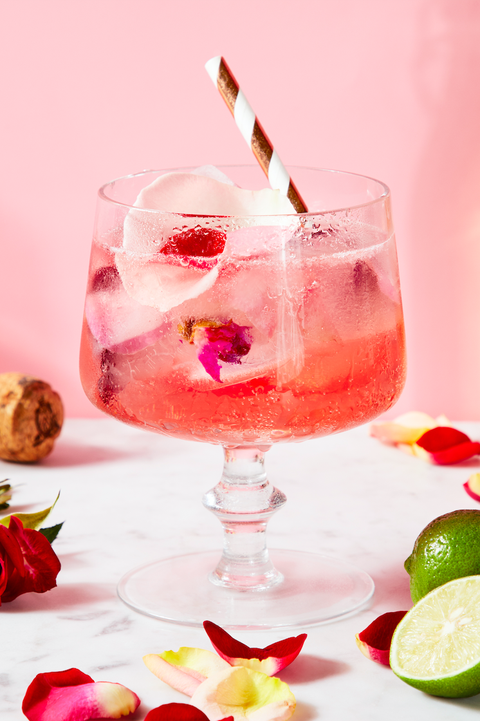 INGREDIENTS
- 3 oz gin
- 1 oz lime juice
- 1 oz elderflower liquor
- 6 oz rosé champagne

DIRECTIONS
1. In a cocktail shaker, combine gin, elderflower liquor, and lime juice. Add ice and shake for 10 seconds. Add your rose petal ice cubes to an empty cocktail glass. Strain the cocktail mixture onto the ice. Top with rose champagne and enjoy.
12. Raspberry Chocolate Martini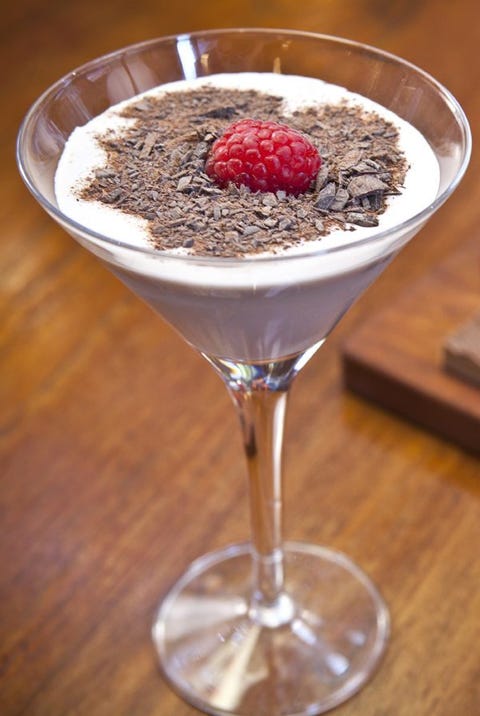 INGREDIENTS
- 1.5 oz Chambord
- 1.5 oz Kahlúa
- 1 oz heavy cream
- 80 percent dark chocolate shavings (for garnish)
- Raspberries (for garnish)

DIRECTIONS
1. Add all ingredients except garnishes into a shaker tin and shake with ice. Strain into a chilled coupe. Sprinkle dark chocolate shavings and add a raspberry on top for garnish.
13. Cupid's Hope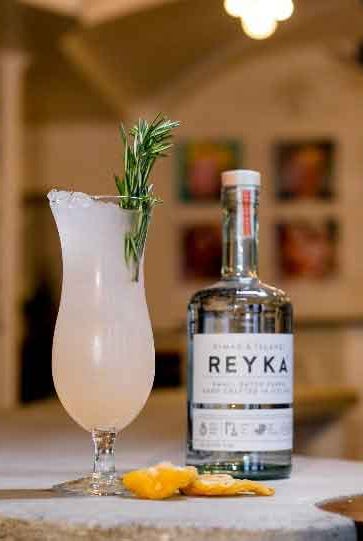 INGREDIENTS
- 1.5 oz Reyka Vodka
- 1 oz lemon juice
- .75 oz rosemary syrup*
- 2 oz pear juice

DIRECTIONS
1. Pour all ingredients into a Hurricane glass over crushed ice and swizzle.

*Rosemary syrup: Combine equal parts water and sugar. Let cool. Blanch the rosemary for about 30 seconds. Pat dry and remove the leaves. Place the sugar, water, and blanched rosemary leave into a blender. Blend to a consistent texture. Fine strain and bottle.
14. Ginger and Jasmine Cocktail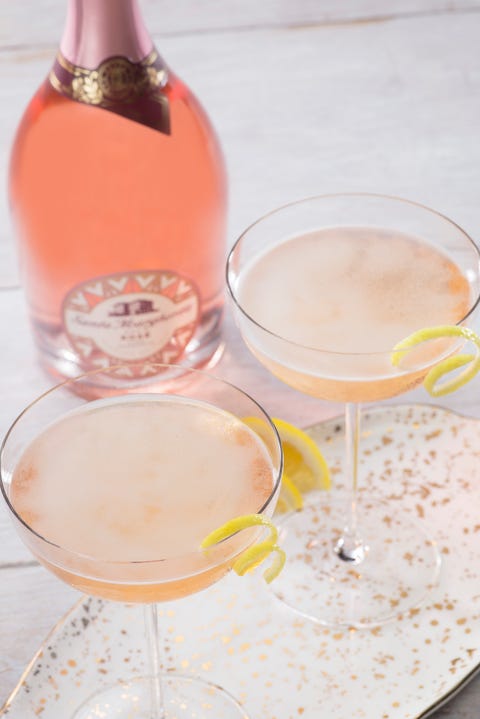 INGREDIENTS
- .75 cup simple syrup
- 8 slices of fresh ginger
- 6 oz room temperature jasmine tea
- 3 oz vodka
- 1.5 oz fresh lemon juice
- A splash of sparkling rosé

DIRECTIONS
1. Muddle the ginger and simple syrup together. Add the tea, lemon juice, and vodka. Strain over a glass and add a generous splash of sparkling rosé on top. Garnish with a lemon twist.